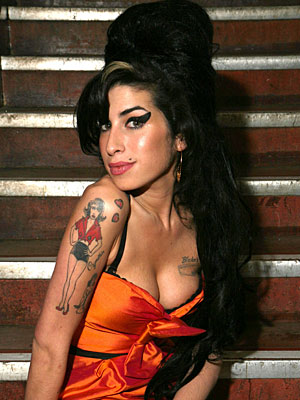 Amy Jade Winehouse
(14 September 1983
– 23 July 2011
)
UPDATE: 10/26/11
A coroner's inquest into the death of Amy Winehouse has determined that the singer died as a result of alcohol consumption, ruling it a "death by misadventure." According to the Guardian, Winehouse was more than five times over the legal alcohol limit at the time of her death.
Discounting earlier rumors that she died from withdrawal, pathologists are now saying that, actually, Amy Winehouse was drunk when she died -- and probably very much so. Blood and urine samples show that the late singer was 4.5 times over the legal drunk-driving limit at the time of her death. Coroners will brief the family on the rest of their findings later today.
She was an English singer-songwriter, known for her powerful contralto vocals
and her eclectic mix of various musical genres including R&B, soul, and jazz.
She also had severe substance abuse issues and reported mental health issues.
In various interviews, she admitted to having problems with self-harm, depression and eating disorders. In 2005, she went through a period of drinking, heavy drug use, violent mood swings and weight loss.
She only recorded two Cd's : "Frank" in 2003 & "Back to Black" in 2006.
Amy before fame
Winehouse's 2003 debut album
Frank
was critically successful in the UK, and was nominated for the Mercury Prize. Her 2006 follow-up album
Back to Black
led to six Grammy Award nominations and five wins, tying the record for the most wins by a female artist in a single night, and made Winehouse the first British singer to win five Grammys,
including three of the "Big Four": Best New Artist, Record of the Year and Song of the Year. On 14 February 2007, she won a BRIT Award for Best British Female Artist; she had also been nominated for Best British Album. She has won the Ivor Novello Award three times, one in 2004 for Best Contemporary Song (musically and lyrically) for "Stronger Than Me", one in 2007 for Best Contemporary Song for "Rehab", and one in 2008 for Best Song Musically and Lyrically for "Love Is a Losing Game", among other prestigious distinctions. The album was the third biggest seller of the 2000s in the United Kingdom.
Before & After
Singer Amy Winehouse, infamous for erratic public behavior, arrests and drug problems, was found dead at her apartment in London Saturday, her publicist confirmed. She was 27. London authorities were called at 3 p.m. local time to her address. However, Winehouse had already passed away upon their arrival
Winehouse died at the same age as four other music legends. Jimi Hendrix, Janis Joplin and Jim Morrison each died of drug overdoses when they were 27. Kurt Cobain was 27 when he committed suicide, soon after his release from rehab.
I, by NO means, put her talent in the same breath as the stars mentioned above!
After hearing of her death I was not shocked knowing her troubled past. And that is the sad part. When you die and no-one is surprised, you have lived a life wasted, A TALENT thrown away.
RIP Amy, we all can wonder what might have been!
Below hear a small audio sample of her biggest hit. Click on the word "Rehab"
| | |
| --- | --- |
| | 21-second audio sample from Amy Winehouse's first hit |