UPDATE: (10/20/11)
8:40pm New Video shows that Moammar Gadhafi was captured Bloody and wounded but very much alive and pleading for his life (PHOTO) fro Video.
You can see the video here→WARNING VERY GRAPHIC
Gadhafi Alive after Capture
UPDATE:
(10/20/11): 6:53pm
Gadhafi killed in crossfire after capture, Libyan PM
Jibril
says.
Gadhafi was captured alive and unharmed as troops from the National Transitional Council overran his hometown of Sirte on Thursday, Jibril said. But a gun battle erupted between transitional council fighters and Gadhafi's supporters as his captors attempted to load him into a vehicle, Jibril said, leaving Gadhafi with a wound to his right arm.
WARNING:
VERY GRAPHIC!
More shooting erupted as the vehicle drove away, and Gadhafi -- who ruled Libya for nearly 42 years before rebel forces overthrew him in August -- was hit in the head, Jibril said, Gadhafi died moments before arriving at a hospital in Misrata, Jibril said, citing the city's coroner.
UPDATE:(10/20/11
:
2:22pm
Reports say his final words were, "What's happening, what's happening. Who are you? What's Happening. What you're doing is wrong, guys. Do you know what is right or wrong?"
Moammar Gaddhafi was captured in Sirte.

(Getty Images

)







UPDATE:(10/20/11:
1:25pm صورة الشاب محمد الشيباني يحمل المسدس المذهب الخاص بالقذافي، الشاب كان مع
المجموعة التي تواجدت لحظة مقتل القذافي
(Translation)-Picture of
young
Mohammed Al Shaibani
carrying the gun
-Qadhafi's
doctrine
, the young man
was with the
group
existed
for the
moment of
killing
Gaddafi.
UPDATE:(10/20/11):
12:30pm New video shows a wounded but alive Col. Moammar Gaddafi being put into a military vehicle. Reports now say he then was executed with a bullet to the head....Vie
Al Jazeera
UPDATE:(10/20/11):11:451m
Col. Moammar Gaddafi, Libya's eccentric and unpredictable leader for more than 40 years, who brought his oil-rich country to international pariah status, tried to restore it as a member in good standing in the global community and was ultimately deposed by a nationwide uprising, died Thursday in Sirte, his home town. His death was confirmed by Libyan Prime Minister Mahmoud Jibril. He was 69.
Prime Minister Mahmoud Jibril confirmed Gadhafi had been killed. "We have been waiting for this moment for a long time. Moammar Gadhafi has been killed," Jibril told a news conference in the capital Tripoli.
Initial reports from fighters said Gadhafi had been holed up with the last of his fighters in the furious battle with revolutionary fighters assaulting the last few buildings they held in his Mediterranean coastal hometown of Sirte. At one point, a convoy tried to flee the area and was blasted by NATO airstrikes, though it was not clear if Gadhafi was in the vehicle
.
Details as to how is not known but a spokesman for a member of the Tripoli military council – says that one of Gadhafi's sons, Mutassim, and Gadhafi's chief of intelligence, Abdullah al-Senussi, also have been killed.
In another major development, revolutionary fighters said they wrested control of Sirte on Thursday. And NATO said it is going to convene soon for a meeting to discuss ending its operation in Libya
UPDATE:(9/24/11:
)
In an audio recording broadcast on Friday - her first public remarks since the fall of Tripoli a month ago - Aisha Gaddafi accused the country's new leaders of being traitors, noting that some of them were members of Gaddafi's regime before defecting in the civil war.
"Those who have betrayed the pledge they offered (to Gaddafi), how come they won't betray you?" she said, in a warning to Libyans.
"I assure you, he is fine, a believer in God, in good spirits, is carrying his gun and is fighting side by side with the warriors," she said.
UPDATE:
(8/29/11)
The wife and three of the children of Col Muammar Gaddafi have sought refuge in Algeria, the authorities there confirmed on Monday night, as the hunt for the Libyan dictator continued.
Safiya Gaddafi, the dictator's second wife and mother of all but one of his children, fled across the desert border between the two countries on Monday morning, a statement from Algiers said.
Mohammed, along with another son, Hannibal, Col Gaddafi's daughter Aisha Gaddafi
, and their children
.
UPDATE:(8/23/11) Reports that Rebels have invaided and captured Gadhafi's compound. Heavy gun fire and smoke can been heard and seen. The battle for Libya continues.
UPDATE:(8/23/11)
أبناء
القذافي
يظهر
في طرابلس
، والمطالبات
والد
آمنة
طرابلس
، ليبيا
--
اثنان من
ابناء
معمر
القذافي
، الذي كان قد
تم الإبلاغ عن
القبض على
أكثر من
عطلة نهاية الاسبوع ،
كانت خالية
وقت مبكر اليوم الثلاثاء
و
القوات الموالية لل
زعيم
الليبي
المحاصر
حارب
المتمردين الذين يحاولون
ترسيخ
سيطرتهم
على طرابلس
.
وأظهرت
سيف
الاسلام
القذافي
يصل
في فندق
ريكسوس
، واحدة من
المعاقل الباقية
من
الموالية لل
القذافي
،
في قافلة من
سيارات لاند كروزر
مصفحة.
القوات
(Tripoli, Libya
--Gadhafi sons reappears in
Tripoli
, claims father is safe. Two of
Moammar Gadhafi's
sons, who had been reported captured over the weekend, were free early Tuesday as forces loyal to the embattled
Libyan
leader battled rebels trying to consolidate their hold on Tripoli.
Saif al-Islam Gadhafi showed up at the Rixos Hotel, one of the remaining strongholds of pro-Gadhafi forces, in a convoy of armored Land Cruisers.)
UPDATE:
(8/22/11) As I write this the Libyan rebel forces have reached Tripoli. Heavy fighting near Gadhafi's residence,Tripoli, Bab Al Azizya.
Explosions, smoke heavy gun fire. Three of his sons have been captured.
معمر القذافي
As Libya's dictator prepares for what is widely expected to be his last stand, he vowed that he would not be forced into exile.
"We will fight to the last drop of blood," he said. "We will never give up."
He warned of a furious fight ahead, with the remnants of the Libyan army and well-armed vigilantes bracing for urban warfare.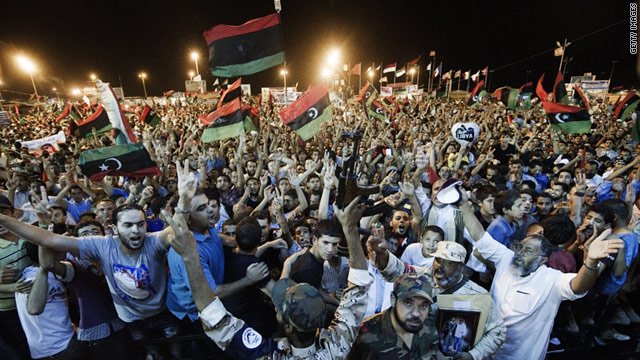 "Tonight, the momentum against the Gaddafi regime has reached a tipping point. Tripoli is slipping from the grasp of a tyrant," said US President Barack Obama.
International leaders have urged Muammar Gaddafi to concede defeat in his struggling to hold onto power in Libya as scenes of celebration broke out in central Tripoli as rebels advanced into the heart of the capital.
Can He survive this? Don't bet against "The mad dog of the Middle East"!
UPDATE:(7/3/11)
Muammar Gadafi can live out his retirement in Libya if he surrenders all power, the country's opposition leader has said
.
UPDATE:(7/1/11)Libyan leader Moammar Gadhafi threatens attacks in

Europe

if

NATO

continues air campaign. MUAMMAR Gaddafi
's daughter,
Aisha Gaddafi,
says that her father's regime is in "direct and indirect" contact with the Libyan rebels, during an interview with the France 2 news channel. "At the moment there are direct and indirect negotiations. We are working to stop the flow of Libyan blood and for that we are ready to deal
The International Criminal Court
has formally agreed that warrants should be issued for the arrest of Col. Muammar Qaddafi
, as well as his son, Seif al-Islam, who has been acting as Prime Minister along with Libya's intelligence chief, Abdullah Senussi. These three Libyan leaders are charged with crimes against humanity involving the murder, injuring, and imprisoning of Libyan civilians between Feburary 10-18, 2011.
Saif al-Islam Gaddafi says ICC charges over the shooting of Benghazi protesters may be dropped in return for secret peace deal.
The son of Libyan leader Muammar Gaddafi has claimed that Nato has offered the regime an "under the table" deal that would see the international arrest warrants against both men dropped.
Saif al-Islam Gaddafi vehemently denied that he or his father ordered the killing of civilian protesters, as charged this week by the international criminal court (ICC).
Can Gaddafi survive, AGAIN!
Muammar Abu Minyar al-Gaddafi
the leader of
Libya
since a bloodless military coup on September 1, 1969. At the age of 27 he overthrew
King Idris
of Libya and established the Libyan Arab Republic. Gaddafi is the longest-serving head of state in the Arab world.
But are his days numbered?
Born in a Bedouin tent in the desert near
Sirte
on June 7, 1942. He graduated with honors from the
University of Libya,
Gaddafi served in the Libyan army and he was sent to
Britain Royal Military Academy
Sandhurst for training in 1966 pursuing a British military education.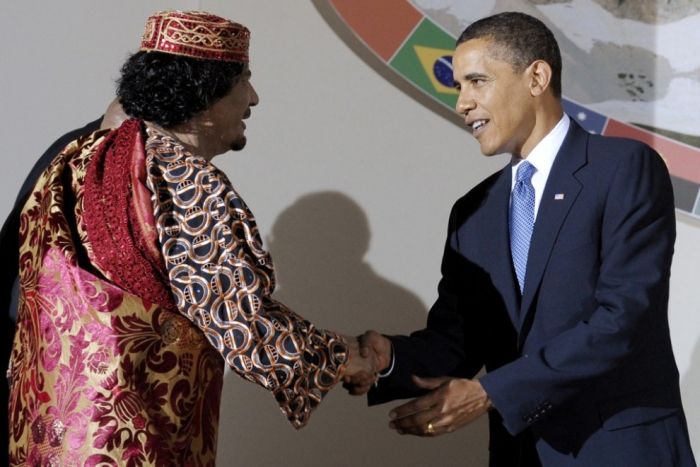 Obama Meets Gaddafi 2009
After taking power, he launched a "cultural revolution" during which he removed all traces of former colonial and foreign influence, ranging from street signs and village names to the economic and political structure of the country.The ancient
Qur'anic
law of cutting off the hands of thieves was re-instituted, gambling and alcoholic beverages were outlawed, and all foreign petroleum assets were nationalized (1973).
Ronald Reagan
called him "The Mad Dog of the Middle East"
Since
Qaddafi
took power the Libyan government has been known for its support of many international terrorist and guerrilla organizations, including the
Irish Republican Army
, the
Palestine Liberation Organization
(PLO), and other extremist Arab and Islamic groups. In 1986 the United States sought to quell Libya's alleged terrorist activities by bombing several sites in Libya, code-named
Operation El Dorado Canyon
. Qaddafi survived, but several of his children were hurt or killed. In 1999, following the turning over of the suspects in the
Lockerbie
bombing, Qaddafi sought improved relations with Western European nations and issued a denunciation of terrorism. He also was a strong force behind the Organization of African Unity 's decision to transform itself into the African Union. Was he turning his ways against brutality, terrorism and humanity towards his people? NO.