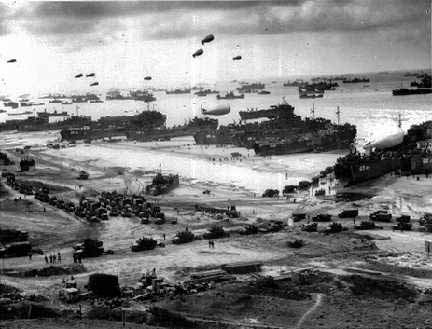 June 6, 1944 D-Day
Franklin D. Roosevelt Library
Public Domain Photographs
160,000 Allied troops landed along a 50-mile stretch of heavily-fortified French coastline to fight Nazi Germany on the beaches of Normandy, France. General Dwight D. Eisenhower called the operation a crusade in which "we will accept nothing less than full victory." More than 5,000 Ships and 13,000 aircraft supported the D-Day invasion, and by day's end on June 6, the Allies gained a foot- hold in Normandy. The D-Day cost was high -more than 9,000 Allied Soldiers were killed or wounded -- but more than 100,000 Soldiers began the march across Europe to defeat Hitler.
General Dwight D. Eisenhower's D-Day Speech
To the Allied Forces
BUT June 7, 2002
is a day I will never forget. On that that day I lost my mother! Having lost my father in 1983, to our family Claire was the rock. The unyielding force that held us all together. Like Mom's are, she was always there, ready to help. NOTHING phased her! She feared NOTHING!
SHE WAS A MOM!
In the last years of her life she battled intestinal bleeding that no one could ever explain, cancer which they remove 1/3 of her stomach. "Well at least I'm skinny again!' she would say! But STILL she was there, helping, nurturing, comforting all of us!
Her pride and joy, Hannah, my niece and God Daughter, gave her great pleasure! Not quite four when she passed, I'll never forget Hannah standing straight up on the limo's floor waiting for her to be carried and put into the hearse.
In the church she told my sister, "Mom don't cry. I see the Angels taking Granny to heaven!"
This post is for HER!
We all have lost loved ones.
It never get over it - we just get used to it!
I LOVE you MOM!