August 20, 2011 to October 31, 2011
Why do we care about the Kardashian's?
UPDATE: 11/3/11- Kim Kardashian is NOW heading back home to LA from Australia deciding to cut her trip short, missing promotional appearances to deal with the fallout from her divorce after 72 days of marriage to professional basketball player Kris Humphries. According to The Daily Mail, the reality star pulled out of a profitable appearance at an Australian horse racing event and a visit to Melbourne Cup Carnival for Swisse vitamins marquee on Saturday for which she was reportedly expected to make more than $150,000. "I'm very disappointed that I am unable to attend the Swisse marquee but I hope to come back and work with the Swisse team at another point in time," she said, according to reports in Us Weekly
UPDATE: 11/2/11- Kim Kardashian broke her silence and issued a "

A Message To My Fans"

on her web site as she is currently in Australia. Kim is headed to Australia with sister Khloe to promote their clothing line. "This is probably the hardest thing I've ever had to write," Kardashian begins the post. She later writes, "First and foremost, I married for love. I can't believe I even have to defend this. I would not have spent so much time on something just for a TV show!" "I love with all of my heart and soul. I want a family and babies and a real life so badly that maybe I rushed in to something too soon," Kardashian later admits. "I believed in love and the dream of what I wanted so badly. I felt like I was on a fast roller coaster and couldn't get off when now I know I probably should have." Read the entire post Here
The sister do have a new book about to come out
DOLLHOUSE
I'm STILL trying to figure that one out, but the latest news from the "House of Kardashian" is that
Kim Kardashian
, 31, is filing for divorce from husband
Kris Humphries,26,
after only
72 days
of marriage claiming
"irreconcilable differences". Read court papers filed by Kim
Statement by Kim Kardashian:
"After careful consideration, I have decided to end my marriage. I hope everyone understands this was not an easy decision. I had hoped this marriage was forever but sometimes things don't work out as planned. We remain friends and wish each other the best."
Humphries, is an American professional basketball player who last played for the NBA's New Jersey Nets. He became an unrestricted free agent in 2011 and is sitting on the bench with the other players as the NBA lockout continues.
Statement by Kris Humphries:
"I love my wife and am devastated to learn she filed for divorce. I'm committed to this marriage and everything this covenant represents. I'm willing to do whatever it takes to make it work."
Kim and Kris got engaged in May of 2011 after a whirlwind six-month romance.
Kim & Dad Robert
Basketball star Kris popped the question by scattering 20,000 rose petals
(see photo above)
spelling out the message 'Will You Marry Me?' on her bedroom floor and handing her a custom-designed, 20.5-carat Lorraine Schwartz diamond ring.
It was Kim's second marriage after being wed to music producer Damon Thomas from 2000 to 2004.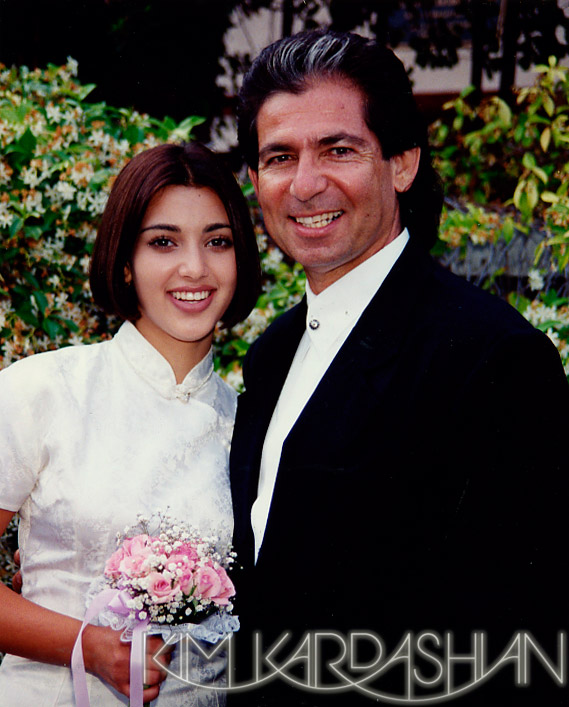 Kim(14) with Dad Robert
Kim's
camp are said to be claiming Kris was chasing fame

, 'going into full Hollywood gear, talking about branding the Kris Humphries name with cologne, nightclub appearances etc.
Kim was also said to have gone off Kris after he 'hired a Hollywood publicist' according to the gossip website.
Meanwhile reports are emerging that their whole marriage, which is said to have netted the former couple $18million, is a hoax, according to Radaronline.com
Kim was born in Los Angeles, California, the daughter of attorney
Robert Kardashian
, from the
O.J. Simpson
trail fame. He was a close friend since early 1970's. Simpson stayed in Kardashian's house during the days following the June 12, 1994 murders of
Nicole Brown Simpson
and
Ronald Goldman
. Kardashian was the man seen carrying Simpson's garment bag the day that Simpson flew back from Chicago. Prosecutors speculated that the bag may have contained Simpson's bloody clothes or the murder weapon.
Rob on ABC's DWTS
Simpson failed to turn himself in at 11am on June 17,1994, and Kardashian read a letter by Simpson to the collected media. The letter was interpreted by many as a suicide note.
Read Note Here.!
In later years, Kardashian said he questioned whether Simpson was involved in the two stabbing deaths.When Kardashian was added to Simpson's defense team, there was speculation that it was so he would not be forced to testify against his friend -- something that would have violated the attorney-client privilege. Robert died on Sept. 30, 2003 from cancer of the esophagus. He was 59. And
Kris Jenner
(née Houghton), who is now married to former Olympic star
Bruce Jenner
.
The Sisters
Back stage at the ABC television series "
Dancing with the Stars
", of which
Kim Kardashian
appeared on in 2008, her brother
Rob Kardashian who is now competeing in 2011 commented on his sister's pending divorce
news, "Everybody, obviously,
is not in a good mood," he said backstage after the show, "but we support anything my sister deals with, and that's all we can do."
So who are they? It all started with the reality TV series
Keeping Up with the Kardashians
on October 14, 2007. hen hand it to them the built, because of are "Stupidity" an empire based on NOTHING! We buy there perfumes, watch there shows and where there clothes that they design.
WHY? PLEASE TELL ME!