First Show - 1986
UPDATE: Oprah's final words on her show, May 25, 2011, "I won't say good-bye, I'll just say, until we meet again. To God be the glory.
"
I have never been a big fan or watched many shows, but there is no debating the "
Oprah Effect
" Oprah has had on TV and our society.
Oprah
Winfrey has had about 28,000 guests on her show and 1.3 million audience members over the past 25 years.
1988-After losing 67 pounds
Born:
29 January 1954, in Kosciusko, Mississippi to an unmarried teenage mother. Winfrey was originally named "Orpah" after the Biblical character in the Book of Ruth, but her family and friends "didn't know how to pronounce it", and called her "Oprah" instead.
Liberace-1986 on Oprah
In 1983, Winfrey relocated to Chicago to host WLS-TV's low-rated half-hour morning talk show,
AM Chicago
. The first episode aired on January 2, 1984. The show went from last place to overtaking Phil Donahue for first in the ratings. Movie critic Roger Ebert persuaded her to sign a syndication deal with King World. It was renamed
The Oprah Winfrey Show
, expanded to a full hour, and broadcast nationally beginning September 8, 1986.
AND as the say, "The rest is TV HISTORY".
Roseanne on Oprah-1986
Mel Gibson-1987 on Oprah
1986: Winfrey gets the final TV interview with pianist-showman Liberace
, six weeks before his AIDS-related death.
1986
, when Roseanne Barr was just starting out on the comedic circuit, she made her first
Oprah Show
appearance during our comedy showcase (which also featured a young Jerry Seinfeld and Richard Lewis!).
Liz with Oprah-1987
Patti LaBelle on Oprah - 1988








1987:
Australian actor
Mel Gibson
appeared on the first season of
The Oprah Show
to promote
Lethal Weapon.
1987
:
Elizabeth Taylor
appears on the show and refuses to answer questions about men, marriage, and jewelry. Leaves Oprah at a loss for words.
Winfrey teased, "I declare, you've got to stop talking so much, Ms. Taylor!"
Bill Cosby on Oprah - 1989
1988
: Patti LaBelle appeared on Oprah singing "
Somewhere Over the Rainbow
" a song she would sing again on the two day finale in 2011.
Sly & Kurt on Oprah - 1989
1989: Bill Cosby
appeared on Oprah from New York City. →
1989:
Kurt Russel
l and Sylvester Stallone
appeared on Oprah to promote there movie "Tango & Cash"
Bob Hope on Oprah - 1990
Ice-T on Oprah - 1990
1990: Ice-T
appeared on Oprah talking about explicit language in his and others songs.→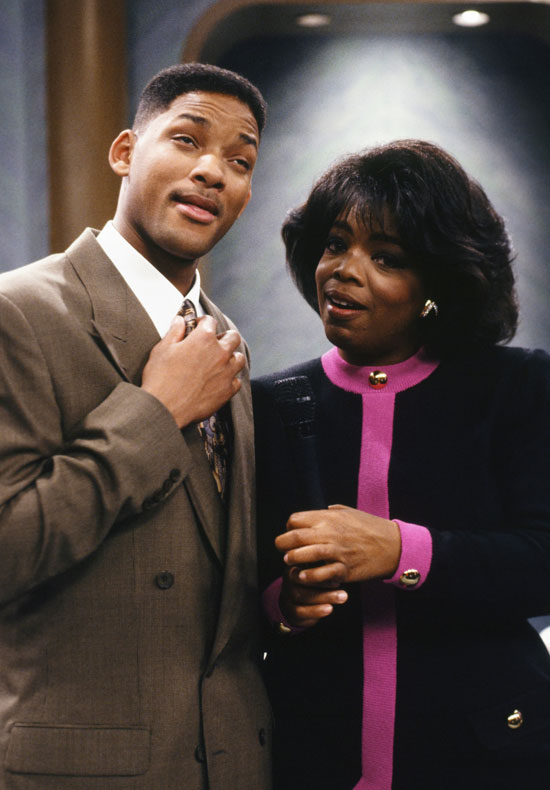 1990:
The Legendary Bob Hope appeared on the Oprah show.
1992:
The Fresh Prince of Bel-Air
,
Will Smith appeared on Oprah and she guest starred on his show aptly titled "A Night at the Oprah," the whole Banks clan travels to
The Oprah Show
to help Uncle Phil's campaign for Superior Court judge. O
Hillary on Oprah - 1995
1993
: Oprah ventured off to
Michael Jackson
's Neverland Ranch for his first interview in 14 years.
Jackson revealed candid details about his skin color, plastic surgery, his relationships and children.
Michael on Oprah - 1993


1995:
Then-First Lady
Hillary Rodham Clinton
joins Winfrey.
Prince on Oprah - 1996
1996: Prince
appeared on Oprah but then known as "The artist formerly known as". This was when he was in a battle with his record company sony.
Celine Dion on Oprah - 1996
Tina & Oprah sing - 1997
1996
:International superstar
Celine Dion
first appeared on
The
Oprah Show
in 1996 after Oprah surprised the entire audience with a trip to Disney World. eline and Peabo Bryson performed their hit from the Oscar®-winning Disney classic
Beauty and the Beast
.
1997: Tina Turner first appeared on Oprah as the two dan

ced.
1997:
Chris Rock
first appeared on Oprah. They both look so young! Oprah looks fantastic in bright red— one of her go-to colors. Her ankle booties looked on trend in 1997 when this episode aired.