Mildred Baena & Arnold Jr.
UPDATE:
Arnold Schwarzenegger fathered a child with longtime member of household staff reports the L.A.Times. Former California Gov. Arnold Schwarzenegger and his wife, Maria Shriver, separated after she learned he had fathered a child more than a decade ago — before his first run for office — with a longtime member of their household staff.(See Photos of Mildred Patricia Baena 50)
Shriver moved out of the family's Brentwood mansion earlier this year, after Schwarzenegger acknowledged the paternity. The staff member worked for the family for 20 years, retiring in January."After leaving the governor's office I told my wife about this event, which occurred over a decade ago," Schwarzenegger said.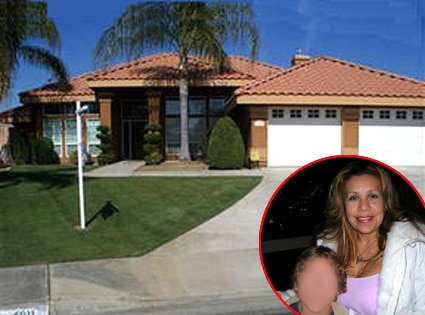 Home Arnold bought Mistress-(E-Online)
Mildred Baena
Mistress Mildred lied on the birth certificate of who the father was as Arnold was buying this home for her.(Photo).
In fact the birth certificate shows that "Arnold Jr." was born the same week as Schwarzenegger and Shriver's youngest son. In fact Maria and Mildred were VERY close during there pregnacy as the two helped each other and Maria Shriver gave Mildred lots of presents to the mom-to-be at her baby shower!
MARIA or MILDRED ???
Shriver released the following statement: "This is a painful and heartbreaking time. As a mother, my concern is for the children. I ask for compassion, respect and privacy as my children and I try to rebuild our lives and heal. I will have no further comment.''
The oddest of couple
's.....
That's what everyone thought when
Arnold Schwarzenegger
and
Maria Shriver
first got together.
He was this Austrian-American former professional bodybuilder(yes STEROID), actor, model, businessman. Schwarzenegger has admitted to using performance-enhancing anabolic steroids while they were legal,(OK?) writing in 1977 that "steroids were helpful to me in maintaining muscle size while on a strict diet in preparation for a contest."(SOUNDS LOGICAL, RIGHT?) "I did not use them for muscle growth, but rather for muscle maintenance when cutting up."(SOUND LEGIT, RIGHT?) He has called the drugs "tissue building."
Whatever!
Maria Shriver the niece of
John F. Kennedy
, the daughter of prominent politician and diplomat
Sargent Shriver
and Eunice Kennedy Shriver, sister of John F. and Robert Kennedy.
They meet at a charity tennis tournament event in 1977, introduced by Tom Brokaw the night before at a party, being held at Maria's mother's home. At 21, Maria had recently graduated from
Georgetown University
. She already had a clear direction in which she wanted to take her life--a career in news reporting--and was enrolled in the Westinghouse broadcast-training program. Part of the large, close-knit Kennedy family, Maria had joined the clan at the
Robert F. Kennedy
Pro-Celebrity Tennis Tournament in Forest Hills, N.Y., held annually in honor of her la
te uncle.
"Your daughter has a great body," Arnold told Maria's mother, Eunice Kennedy Shriver, that day. He's funny, Maria thought. And gutsy. Everyone around them sensed the instant chemistry.
Maria invited Arnold to the
Kennedys
' legendary compound in Hyannis Port, Mass. later that night. As her brother remarked, "Maria had never met a guy and brought him to the Cape that fast.""I was pretty sure when I met him that I would marry him," said Maria. "I admired his Independence, his focus, his drive, his humor.
I thought I would have a challenging life with him. Not an easy life, but an interesting one."
The couple began dating as Maria was working her way up the TV-news ladder, first as a segment producer and eventually as an on-camera reporter. Her big break was a reporting slot for CBS News.Maria wanted to develop her own identity, professionally and personally, before she married.
Arnold was equally determined to succeed focusing heavly on his movie career after having retired from bodybuilding in 1980 after winning his record 7th
Mr. Olympia
. In 1983 Arnold became a US citizen.
In the summer of 1985, Arnold took Maria home with him to Thal, Austria. While they were in a rowboat on the lake where Arnold swam as a child, he asked her to be his wife.
"Are you serious?" asked Maria.
Arnold presented her with a diamond engagement ring. He was serious. "We'd been together eight years, so naturally I said, 'Yes!' " recalled Maria.
She married Schwarzenegger on April 26, 1986, in Hyannis, Massachusetts, at St. Francis Xavier Roman Catholic Church. All air traffic within a two-mile radius of the Kennedy compound was forbidden to cruise below 2,000 feet. At 11 a.m. Maria, 30, and Arnold, 38, entered the Church. Arnold wore tails and Maria wore a pearl-edged white satin-and-lace gown, with an 11-foot train, designed by Marc Bohan of
Christian Dior
. She
carried a bouquet of French posies and roses.
When Arnold gave his future in-laws a silk-screened photo of Maria made by pop artist Andy Warhol (one of the wedding guests), he told them, "I'm not really taking her away, because I am giving this to you so you will always have her."
"I love her and I will always take care of her. Nobody should worry," Arnold assured the guests.
They have four children.
But now flash forward to May 9, 2011 with the joint announcement of there separation. Maria has been unhappy with him for years, sources say, and planned to break up in 2009 until her mother,
Eunice Kennedy Shriver
, passed away.
Then, Maria wanted to try to break it off with Schwarzenegger again in January 2011, but her father died, once again putting the split on hold.
In any case, insiders say she is fed up with Arnold's infidelities, coupled with the fact he's been "impossible" to live with for myriad reasons.
However, once Maria(55) finally decided to separate from Arnold(63), he pulled a 180 and he's been "working extremely hard" to win her back of late.
As one source says, "He could not be sweeter now that she's left him."
What will happen to this Oddest of couples, time will well. For now it's just another Hollywood marriage that has gone bad!
............................................................................
Disney = Determinate - Lemonade Mouth