.....OCTOBER 7, 2011 - Pre-Order
.....OCTOBER 14, 2011 - Available in Stores
UPDATE:10/7/11- 3:25am edt I have been trying to get on the Sprint web site now to see if I can Pre-Order the iPhone 4S from Sprint with UN-Limited Data and see how much the plans would cost compaired to my current carrier, Verizon. BUT I can NOT access the iPhone arear at all. Either everyone is trying to get on, or Sprint is NOT used to this kind of a MAJOR increase in traffic to there site.

UPDATE:10/3/11- Reported in The Wall Street Journal that SPRINT, the No. 3 wireless company, that the carrier agreed to purchase at least 30.5 million iPhones over the next four years—a commitment of $20 billion at current rates—whether or not it could find people to buy them, according to people familiar with the matter and that Sprint would likely lose money on the deal until 2014.
iphone 5 Invites
UPDATE:-9/27/11
Apple has officially announced its iPhone event, to be held on Oct. 4. The event will take place at Apple's Cupertino Campus in California, beginning at 10 a.m. PDT (1 p.m. EDT), according to press invitations issued by Apple on Tuesday. Some reports say Apple will release two phones during next week's conference. An iPhone 5 and a less expensive model, possibly called the iPhone 4GS.
(NY Times)
UPDATE:-9/26/11
Apple's iPhone 5 event on Oct. 4 will take place at the company's Cupertino campus, not in San Francisco where all the previous iPhones and iPads have been announced.
UPDATE-NEW INFO:-9/21/11
Apple's Next Event is to be held on October 4, Starring Its New CEO. Apple's iPhone 5 will make its debut Oct. 4, with new CEO Tim Cook taking the stage to host the unveiling, according to a new report
by AllThingsD. That's the day Apple is currently expected to hold its next big media event, according to sources close to the situation, where the tech giant will unveil the next iteration of its popular iPhone.
UPDATE:9/20/11-
T-Mobile executive says no iPhone 5 in 2011 for them.
"We are not going to get the iPhone 5 this year." said T-Mobile Chief Marketing Officer Cole Brodman speaking at a town hall meeting on September 15.
That is the date I am hearing. While chatting with French reporters at a business conference, France Telecom CEO Stephane Richard said the
iPhone 5
will debut on that day.
Appleinsider.com has reported that
Apple has reportedly informed its AppleCare division to expect an influx of iOS-related inquiries from customers beginning Monday, Oct. 10, perhaps signaling when the company plans to release iOS 5 to existing device owners. Could then this mean that latter in the week the iPhone 5 will then be released?
New York Times
reports that according to an Apple employee who did not want to be named, iPhone 5 announcement is just weeks away, in line with what some of the rumors have suggested.
One can ONLY hope so....
Never has there been such a build up of rumors, leaks, reports, anticipation etc over anything. I for one is
getting SO fed up already I'm on the verge of getting a Blackberry.........NOT!
Apple
is REALLY building extraordinary hype this time, or the iPhone 5 is just not quite ready for launch.
Here's whats been going around the "Tech" world".
The biggest news out there is that
"SPRINT"
will not only be getting the iphone but according to a report by
Bloomberg
, Sprint is planning on offering its customers unlimited data plans for use with the iPhone 5, which is widely speculated to be launching in early October.
The report claims that Sprint wants to differentiate itself from rival carriers AT&T and Verizon, both of which currently do not offer unlimited data packages for use with the wildly-popular iPhone handset. A leaked Sprint memo informs the carrier's employees of a vacation blackout from September 30 through October 15 due to the "possibility" of a major phone launch.
To me this is HUGE. I for one currently have
Verizon
as my carrier. My contract has LONG since been up, so a jump to Sprint for "Unlimited Data" seems to be a no brainier.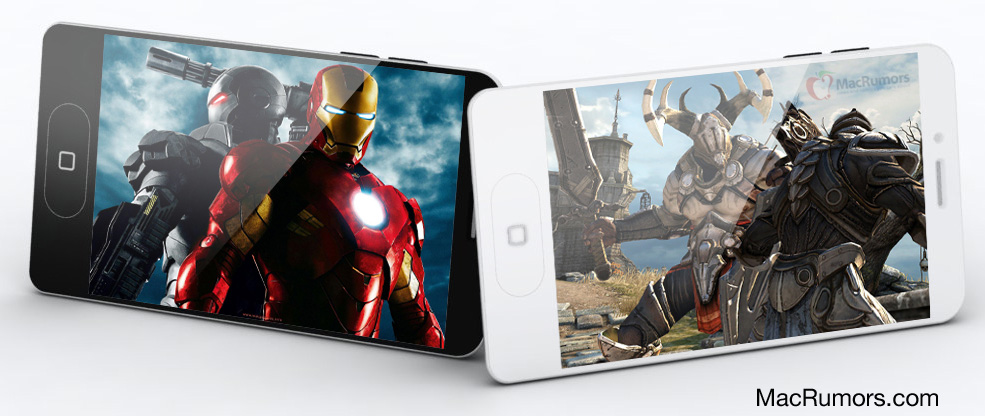 The iPhone 5 is also supposed to be bigger & thinner then the
iPhone 4
. Leaked pictures of cases hit the web and
Macrumors.com
commissioned ciccaresedesign.com to create high quality drawings made as closely as possible to the original leaked case designs. The final dimensions of the new design are calculated to be: 4.33″ x 2.36″ and .27″ thickness at the top and .21″ at the bottom In comparison, the iPhone 4 dimensions are: 4.5″ x 2.31″ x .37″. So the new design is actually shorter than the existing iPhone 4, but slightly wider and thinner.
Compaired to iPhone 4
On Sept. 14, unwire.hk posted a group of pictures of the would-be screen protector of
iPhone
5.
The iPhone 5 will have larger display and wider home button, leaked screen protector suggests.
iphone 5


Best Buy employees have been informed that pre-orders for the iPhone 5 will begin this week in time for a release in the first week of October.
A Best Buy source released a document to BGR.com, which shows that the store is anticipating the pre-sales.
On September 12 Vodafone spills the beans U.K. carrier
Vodafone
briefly lists the iPhone 5 on its Web site in both 16GB and 32GB editions and in black and white.
NY Times reports that according to an
engineer
familiar with the new iPhone, it will:
be fairly different from the iPhone 4 — including on the inside
come with an eight-megapixel camera
have a faster A5 dual-core processor
I will continue to
scour
the web and my sources and bring you the very latest news on when the iPhone 5 will FINALLY be a reality!
STAY TUNED!