Which Carrier should we use?????
Here's what I know so far....Stay tuned as I will UPDATE as details become clearer!
UPDATE:10/7/11-
Well pre-orders have started on AT&T, Verizon and yea SPRINT! At exactly 3:01am edt, well close to it anyway), all sites started taking orders for Apple's latest iPhone the 4S. I stayed up to monitor and found both AT&T and Sprint as well as apple.com all DOWN or assessable! Verizon was sporatic at best but could be done.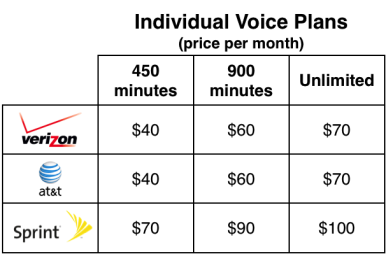 As for SPRINT: They are offering this price plan's:
from $79.99 per month when you add up its 450 minute Everything Data plan which includes a $10 per month smartphone fee, everything is included including Messaging & data. A 16GB model will set you back $199.99, a 32GB model will cost $299.99 and the new 64GB model will be $399.99. BUT, hold on, if you are a NEW customer there is a $36.00 activation fee as well.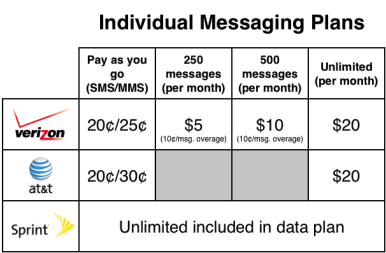 an iPhone on Verizon price for the phone is the SAME as the others and requires at least a $39.99, 450 minute talk plan only, $59.99 for 450 talk & Unlimited text and $30 data plan for the lowest 2GB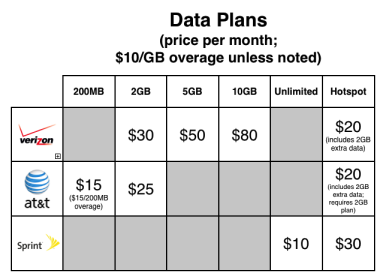 The iPhone 4S is the SAME price as the other carrier's and also requires a data plan. Plans start at 450 w/Rollover Minutes at $39.99, data plan of 200mb $15.00 and $20.00 for unlimited messaging on AT&T.
Now that we know the latest edition of
Apple's
hugely popular iPhone is set to be launched on October 4 at an event on the companies Cupertino,CA. campus headquarters, the real question is what carrier do we use?
AT&T
,
Verizon
or
Sprint
?
YES! I said SPRINT.
Rumers abound that Sprint will be joining the cellular companies that will carry the iPhone. Word out is that Sprint will join AT&T & Verizon in the battle for the iphone market.
But word is that Sprint, the third-largest U.S. wireless carrier, will have a competitive advantage over it's rivals in the fact that they will be offering, "Unlimited Data" plans to everyone, unlike
AT&T
or
Verizon
who have stopped offering such plans and now have a tiered rate.
At the end of the second quarter 2011, Verizon had 106 million subscribers while AT&T had 99 million and Sprint had 52 million. Sprint's messy merger with Nextel in 2005 certainly didn't help its position either. In addition, both rivals offering the iPhone gave those companies a little extra edge that Sprint will now obtain.
Little information is available so far as to the exact pricing and details of what Sprint will be offering but Sprint already offers unlimited data plans for smartphones such as Research In Motion Ltd. (RIMM)'s
BlackBerry
and HTC Corp. (2498)'s
Evo
, which runs on
Google
Inc. (GOOG)'s Android operating system. Sprint's unlimited voice and data service costs $99.99 a month. I have heard that it may be as little as $79.99 a month
IPhone vs. Android
The iPhone may not lead to more data use per customer than Sprint already sees from customers who have Android phones. In the first quarter, Android smartphone owners in the U.S. consumed an average of 582 megabytes of data each month, compared with 492 megabytes for iPhone owners, according to Nielsen Co.'s analysis of nearly 65,000 cell-phone bills.
AT&T and Verizon
AT&T and Verizon charge for data service on top of voice- service plans. AT&T, which has unlimited voice service for $69.99 a month, offers 200 megabytes of data for $15 a month, 2 gigabytes of data for $25 a month, or 4 gigabytes of data for $45 a month. Verizon's data plans for the iPhone start at $30 a month for 2 gigabytes and rise to $80 for 10 gigabytes, in addition to unlimited voice service for $69.99 a month.
T-MOBILE
Oh, by the way, as for T-Mobile, or as some WANT to call it; AT&T-T, they are NOT getting the iphone anytime soon!
T-Mobile
from Deutsche Telekom AG for a whopping $39 billion dollars. This would be the merging of the United States' the second largest cell phone service provider (AT&T) with the fourth largest (T-mobile). The resulting merger would vault past Verizon Wireless and become the nation's largest cell phone service provider.
BUT the United States government filed court papers in Washington, D.C. to block the deal. According to the report, the Justice Department feels that the deal would "substantially lessen competition" in the wireless space. In fact, it boldly stated the following: "AT&T's elimination of T-Mobile as an independent, low-priced rival would remove a significant competitive force from the market.