Just finished watching
Carmelo Anthony
's
NY Knick
's debut from
Madison Square Garden
in
NYC
defeating the
Milwaukee Bucks
114-108. After weeks and weeks of speculation, trade rumors and various reports on where Melo would wined up he finally got traded to the Knicks in a Blockbuster multi team deal. Anthony is expected to sign a three-year, $65 million extension with the Knicks.
Why is this signification? It's just another sports star getting a BIG contract? Is he more important then a Doctor, Accountant, a Teacher etc. Of course not, but this is different.
Shortly before tip-off, and moments before the new-look Knicks were officially announced, the lights went down and the scoreboard flashed these words:
"I was born on May 29, 1984 in Brooklyn, NY. … They started calling me 'Little New York'… And 'New York This' or 'New York That' … In New York, there's a basketball court at every corner. … Basketball is all we really knew. … I wanted to be Bernard King."
- Carmelo Anthony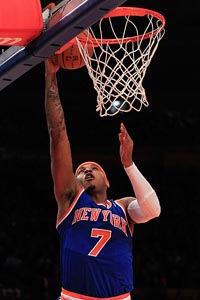 Carmelo Iriarte Anthony
born
in the Red Hook projects
of Brooklyn,NY
, was named after his father, who died of liver failure before Carmelo's third birthday. That left Carmelo's mother, Mary, on her own to raise her infant son and his three older siblings.
He absolutely loved basketball—both the college game and the pros.
For Carmelo, there was nothing better than when spring rolled around each year. First he would gorge himself on March Madness
, and then he would turn his attention to the NBA
playoffs.
When Carmelo was eight, his siblings were ready to move out. Mary headed to Baltimore with her youngest son. They settled in a neighborhood on the city's west side known as "The Pharmacy"—which years later was made famous as the setting for HBO
's "The Wire
." It was no safer when Carmelo
and his mom lived there. Crime and drugs could be found on every corner. Mary possessed a powerful tool in her attempts to keep Carmelo out of trouble. If he stepped out of line even slightly, he wasn't allowed anywhere near a basketball court.
He decided to declare early out of High School, announcing that he would attend Syracuse
before his senior year. A fan of the Orangemen
since his days in New York City
, Carmelo liked coach Jim Boeheim
's style of play. He also figured he would get plenty of exposure in the Big East Conference
. His trek home again was beginning.
He spent only one year at
Syracuse
but during the 2002-2003 season, where he averaged 22.1 points (16th in the
NCAA
, 4th in the
Big East
) and 10.0 rebounds (19th in the
NCAA
, 3rd in the Big East, 1st among NCAA Division I freshmen). He helped guide the
Orangemen
to their first ever
NCAA tournament
title in 2003. He led the team in scoring, rebounding, minutes played (36.4 minutes per game), field goals made and free throws made and attempted. Anthony's 33-point outburst against the
University of Texas
in the
Final Four
set an NCAA tournament record for most points by a freshman. In the championship game against the University of Kansas, Anthony had 20 points and 10 rebounds. For his efforts during the NCAA tournament,
Carmelo Anthony
earned the tournament's Most Outstanding Player Award.
Announcing he was leaving after only one year at Syracuse
, Carmelo was certain to earn millions as one of the NBA draft's top three picks in 2003. Drafted by Denver as the number 3 pick on
June 26, 2003
NBA Draft. He became a superstar.
With a disappointing USA Dream Team
2004 appearance where he only played just 47 minutes as the team could only manage to get a Bronze Medal, he announced that he would be back in 2008 playing for the USA in Beijing. That team lead by Carmelo wins the Gold Medal by an average margin of 32.2 points.
Fast forward to the Summer of

2010
Carmelo wanted out of
Denver
.As time went bye it was clear he only had one choice where he wanted to go,
BACK HOME TO
NEW YORK
. Was it because he believed he could get the most money contract there, or because he grew up in the projects of
Brooklyn
as a child idealizing
Bernard King
and always
dreaming to play at the worlds most famous areana? Other teams wanted him, even the soon to be
Brooklyn Nets
, but he would have none of that as he clearly stated he would only sign an extension with the New York Knicks. Could he have done better somewhere else, probably. Anthony was in his last year of a five-year, $80M contract with Denver. He knows that the collective bargaining agreement is almost up. That key piece of information is huge. The system seems flawed, and a change of some sort is likely on the way. But, still I believed he wanted New York. Anthony now sign a three-year, $65 million extension with the Knicks. Nice raise but he more then likely left money on the table just like
Cliff Lee
did when he wanted to go to
Philadelphia
. He'll make his money, but he will also get to come home.
"It was a dream come true for myself," Anthony said of landing with the Knicks."I'm excited, man," Anthony said. "I'm in one of the best places to play, New York City." "Being born here, having my family and roots here, this is where I wanted to be!"
"I'm Coming Home
" Yes you can GO Home Again - MELO!